Cramer open house Wednesday, August 23rd. See details in attachment. This information is also on Facebook and was sent via email. Please contact the school with any questions.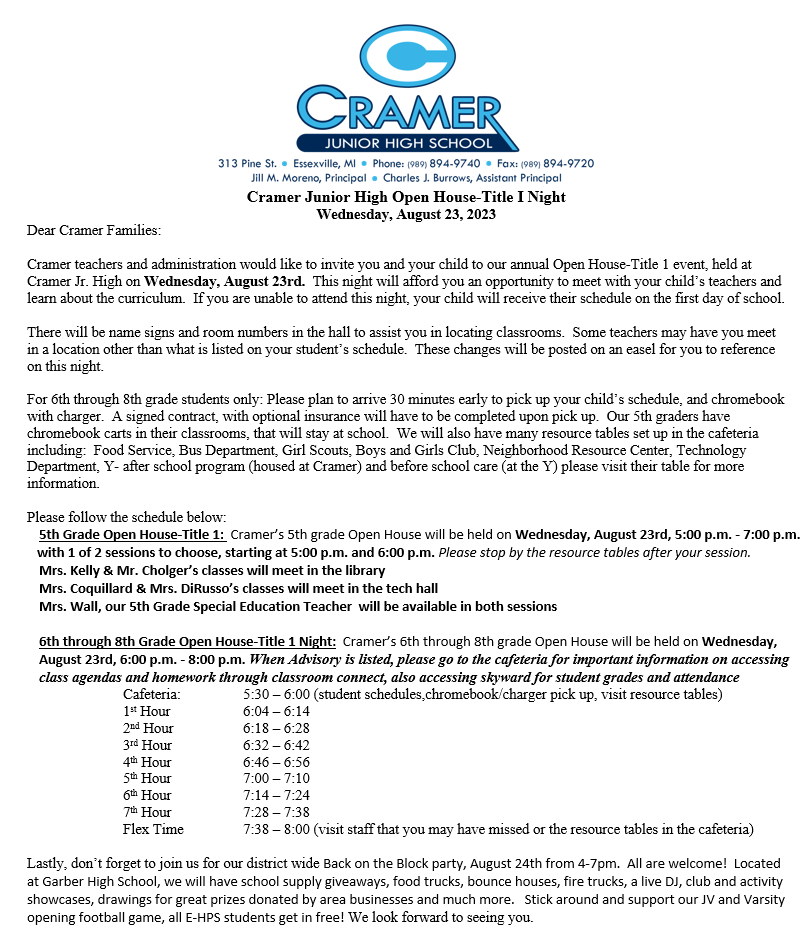 *Attention all 6th, 7th and 8th graders…. Cramer Cross Country will be starting our season Tuesday, September 5th. Please stop by the Cramer Gym after school on Wednesday, August 30 to pick up paperwork from Coach Garwick on your way home! In order to practice, you will need to have a current physical on file with the Garber Athletic office. *You can not practice or participate without a current physical*
Any 7th and 8th grade girls interested in trying out for basketball- tryouts will be held at Cramer from 4-5:30 on Monday August 21 and Tuesday August 22. You MUST have a current physical on file to participate! Please bring basketball shoes, water, and athletic clothes to tryouts. If you have any questions or concerns, please reach out to Coach Scholz at
scholzt@e-hps.net
. Excited for a new season, GO DUKES!
Attention incoming 5th graders...Come meet Principal Moreno and Assistant Principal Burrows for Popsicles with your Principals on Tuesday, August 8th, 4 - 6 p.m. on the 5th grade playground at the north end of Cramer Jr. High. Hope to see you there!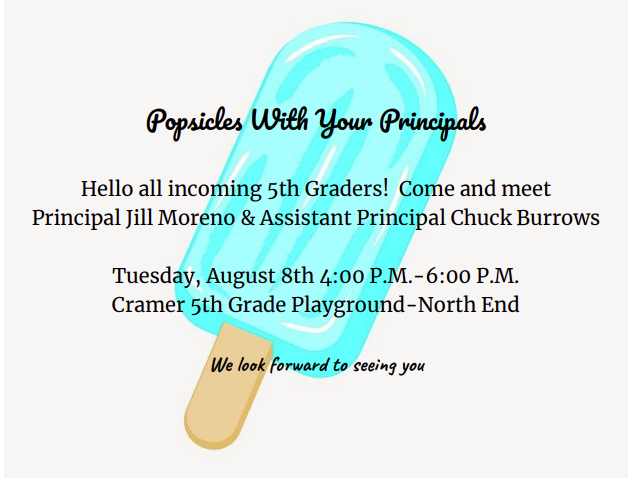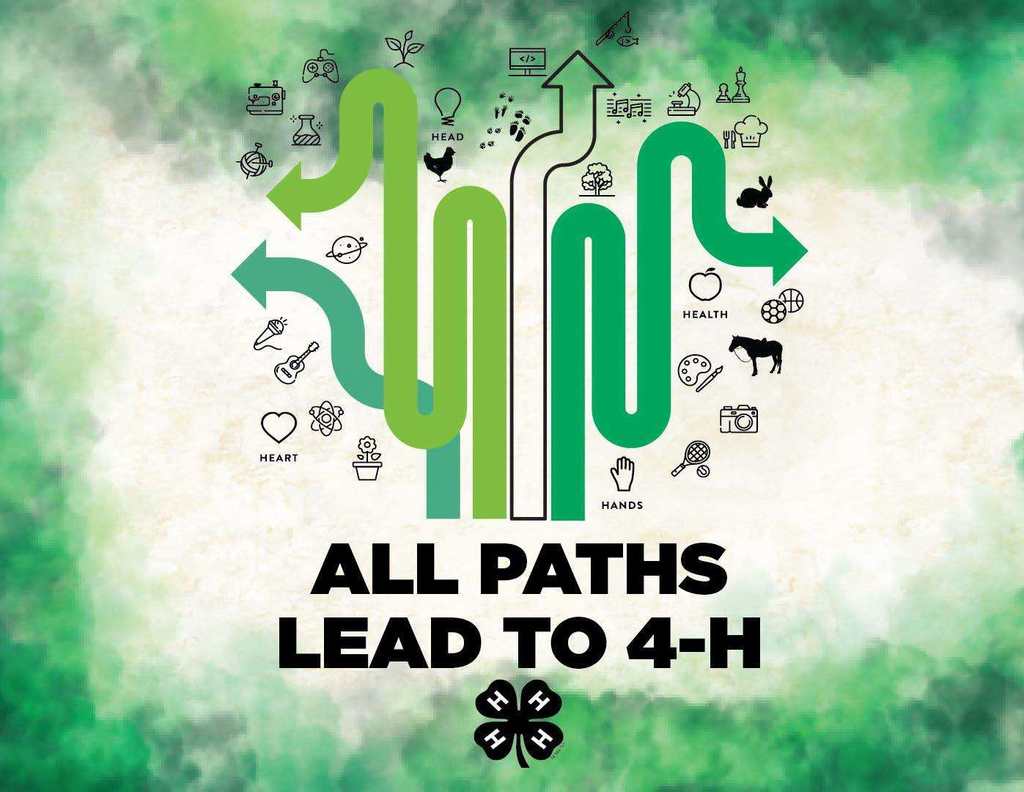 Attached are the March breakfast and lunch menus for Cramer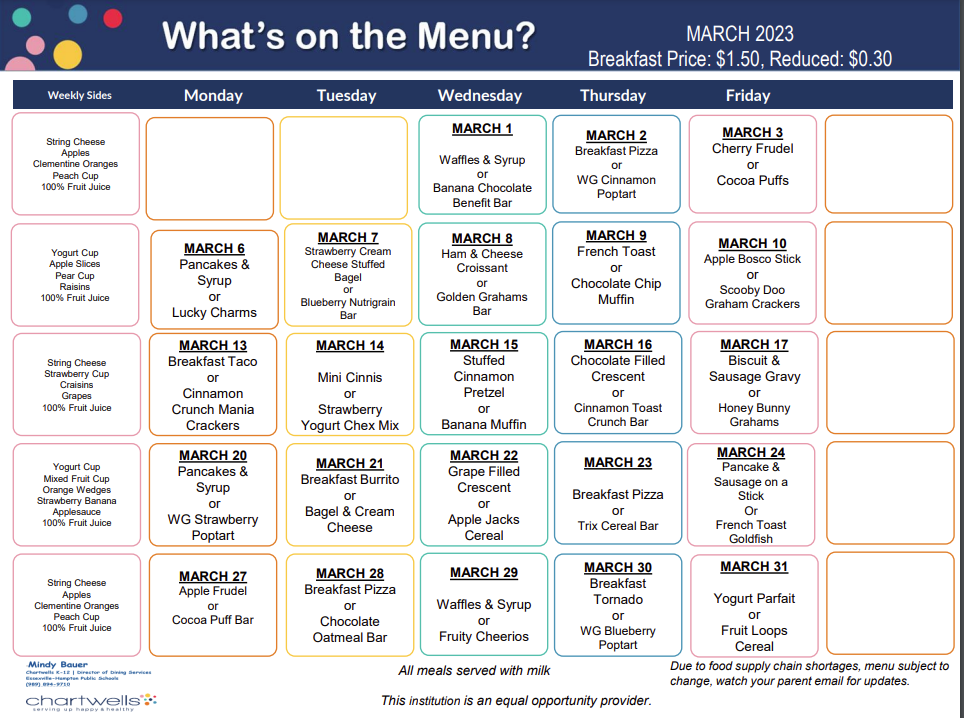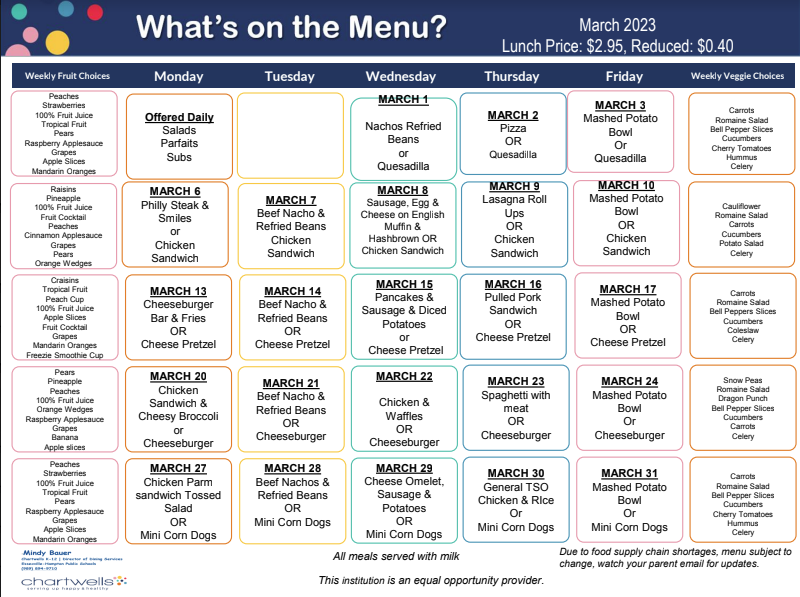 Greater Bay Little League 2023 Registration. See attached information.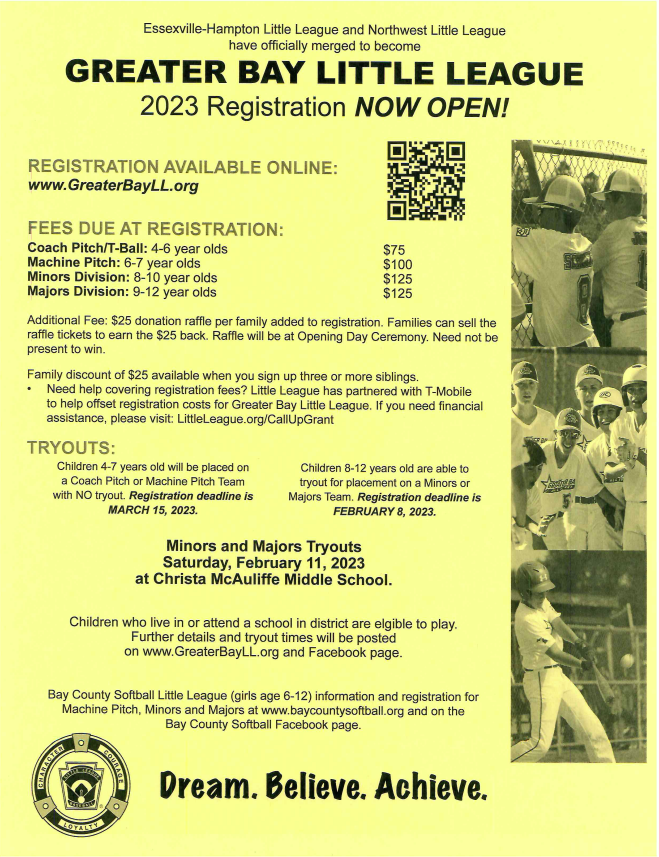 Cramer Activity Night When: Friday, January 13, 2023 Where: Cramer Junior High Times: 4:30 - 6:30 p.m. for 5th and 6th graders 7:00 - 9:00 p.m. for 7th and 8th graders We are hosting our first Activity Night here at Cramer. Join us for music, DJ and dancing, open gym and games. Concessions will be available for an additional charge. This is for Cramer students only. Tickets are $5.00 and must be purchased in advance. They will be sold at all lunch periods Monday, 1/9 through Friday, 1/13. Tickets will not be sold at the door. We will need parent volunteers, all volunteers must fill out a volunteer information form no later than Wednesday, 1/11. Volunteers can sign up for one or both sessions and complete a form at Cramer's office.
Cramer Cramer Club is starting the week of the 24th and 26th, 5th and 6th grades on Tuesdays and 7th and 8th grades on Thursdays, both from 6-8pm. Applications are due January 13th and the link to apply is
https://bit.ly/cramercc2023
!
January Menus - breakfast and lunch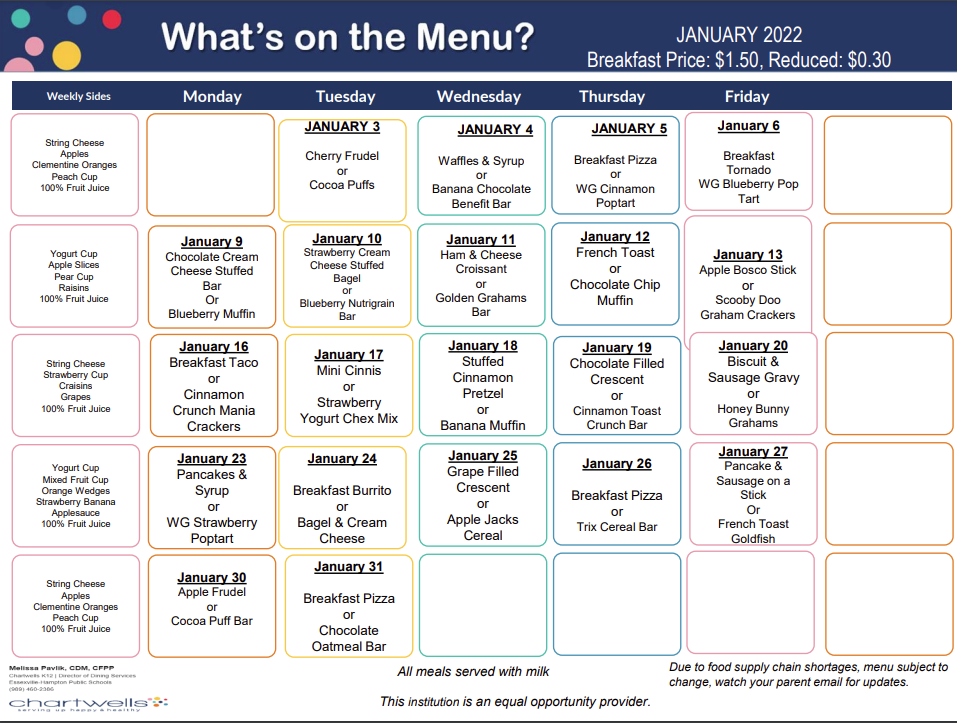 Cramer Junior High Holiday Food Drive next week, December 12 - 16th. Please bring non-perishable food to Cramer's Cafeteria to be donated to local food pantries. Let's feed the hungry this holiday season. Thank you for your support.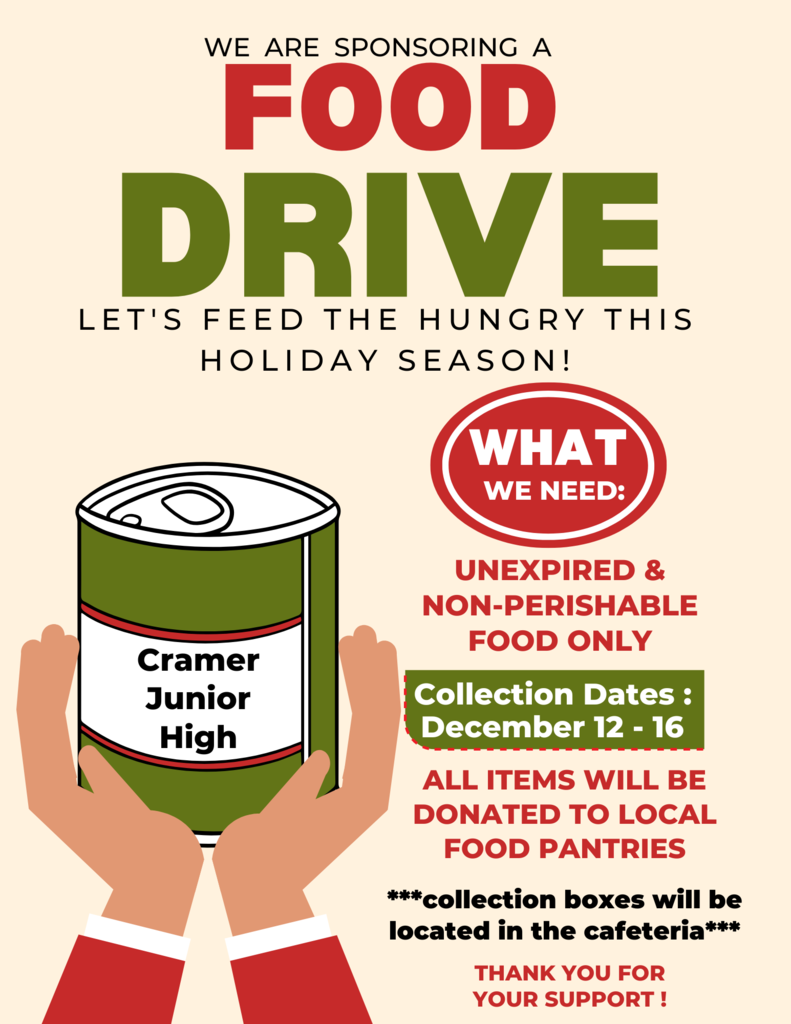 December Menus for Cramer Jr. High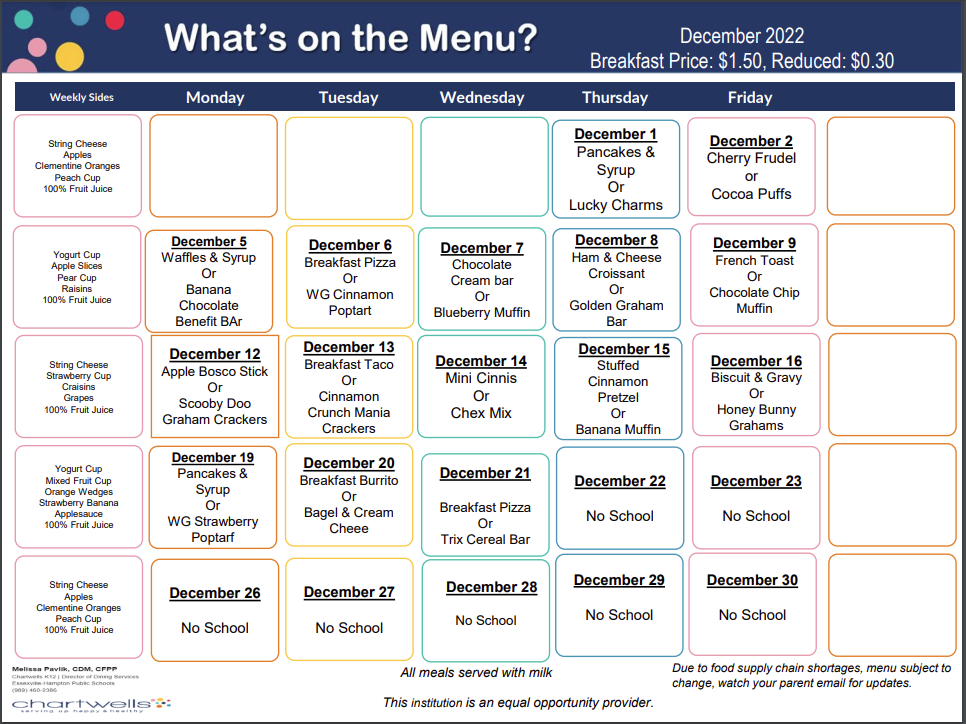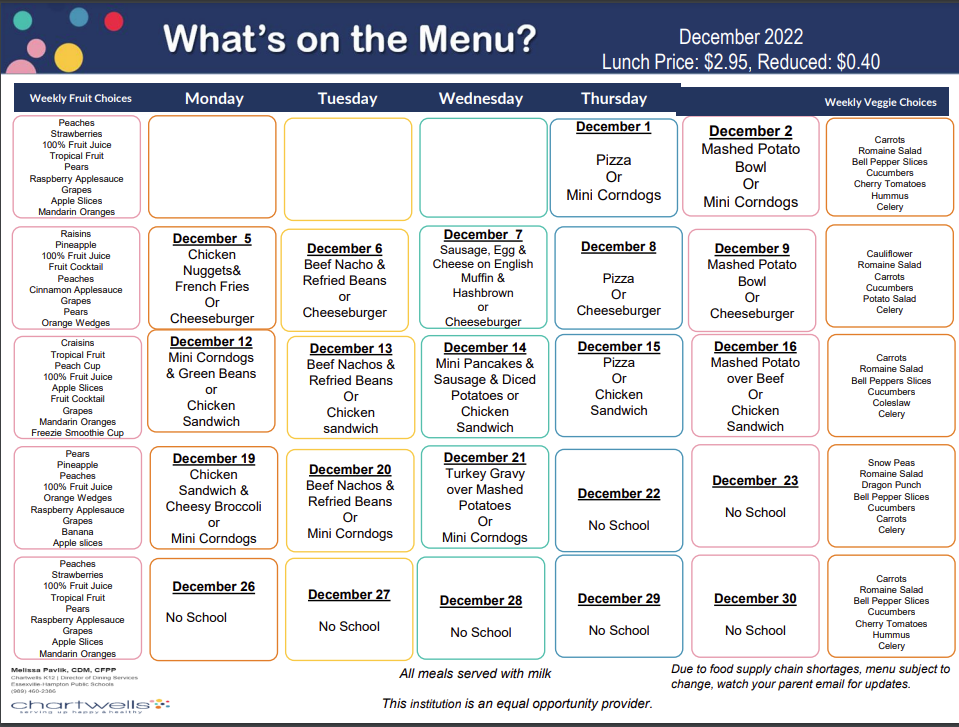 Cramer Book Fair - December 5th - 9th in the Media Center.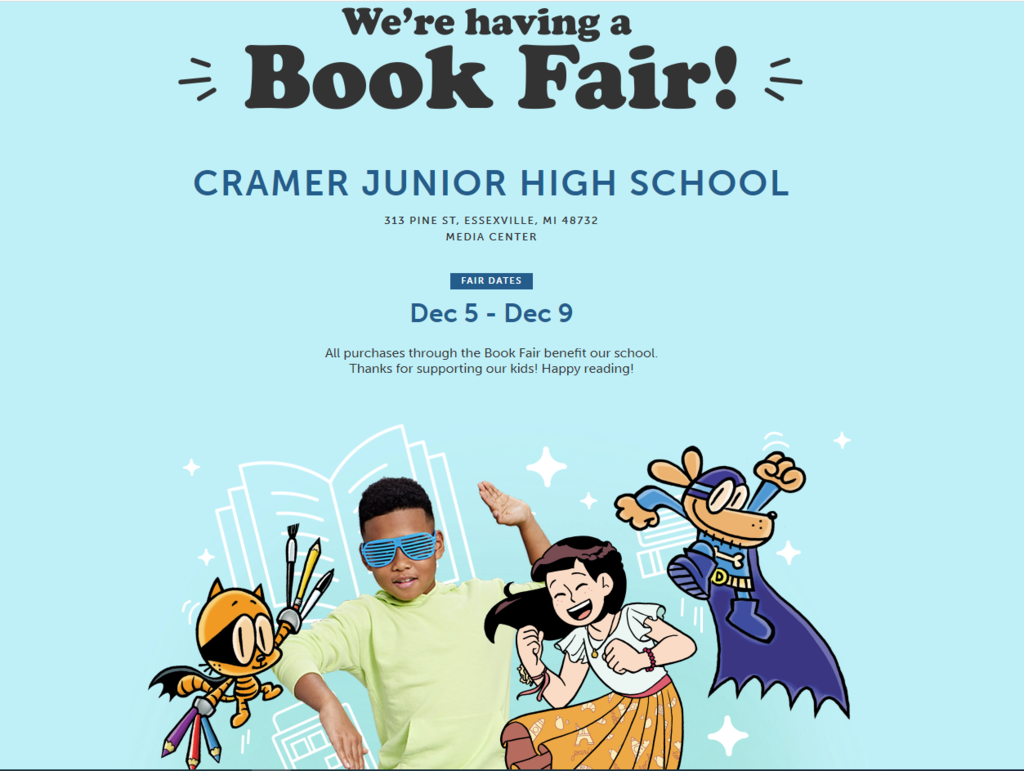 See attached Cramer breakfast and lunch menus for November.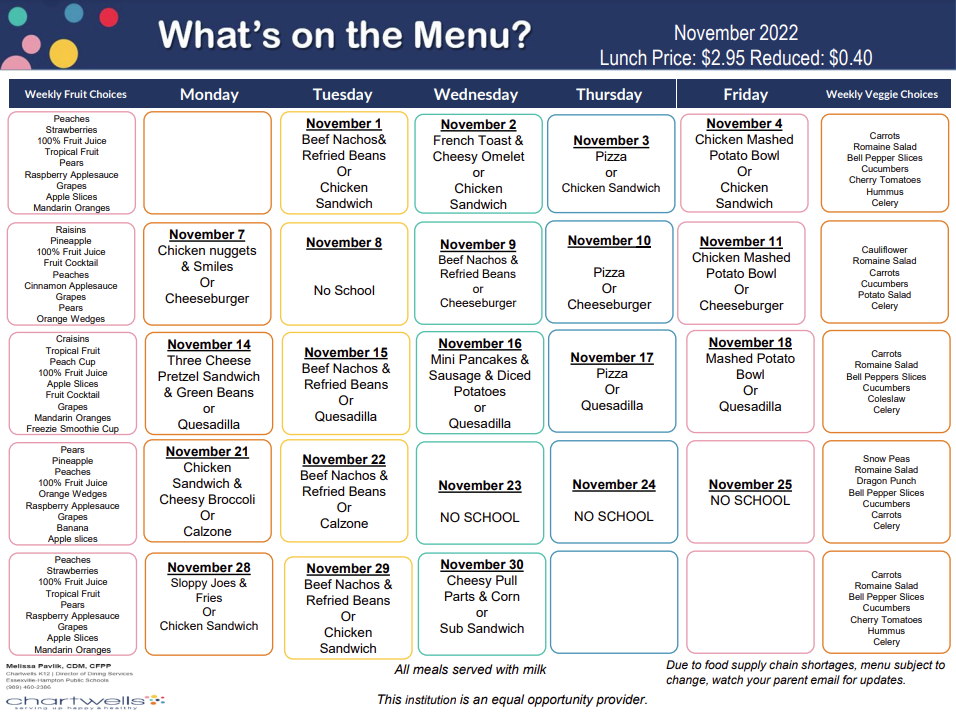 2022 7th and 8th Grade Cramer Volleyball Tryout Information Dates: Monday, Tuesday, and Wednesday – October 24, 25, 26. 7th grade tryout times are 3:30 – 5:00. 8th grade tryout times are 5:30 – 7:00. You MUST be at all three days of tryouts. We will be forming one 7th grade and one 8th grade team, each made up of 12 members. YOU MUST BRING to tryouts a completed MHSAA physical form if you have not already turned one into the Athletic Department. This form must be completed by a parent/guardian AND by a physician. You will NOT be able to tryout without this completed form. Direct any questions to Coach Renee Arnold at 989-714-0420.
POPCORN SALE!!!! Friday, September 30th. $1.00 per bag, sold at lunchtime!
See the attached flyer with information on Cramer's Family Reading Night and Title I Informational Night. If you plan on attending, please RSVP by returning return the bottom section of the flyer to the office. Students can also pick up a hard copy of the flyer in the office. If you plan to attend, but can not return the slip, you may email Mrs. LaBrenz (
labrenzk@e-hps.net
) or Mrs. Waterman (
watermanc@e-hps.net
) the RSVP information.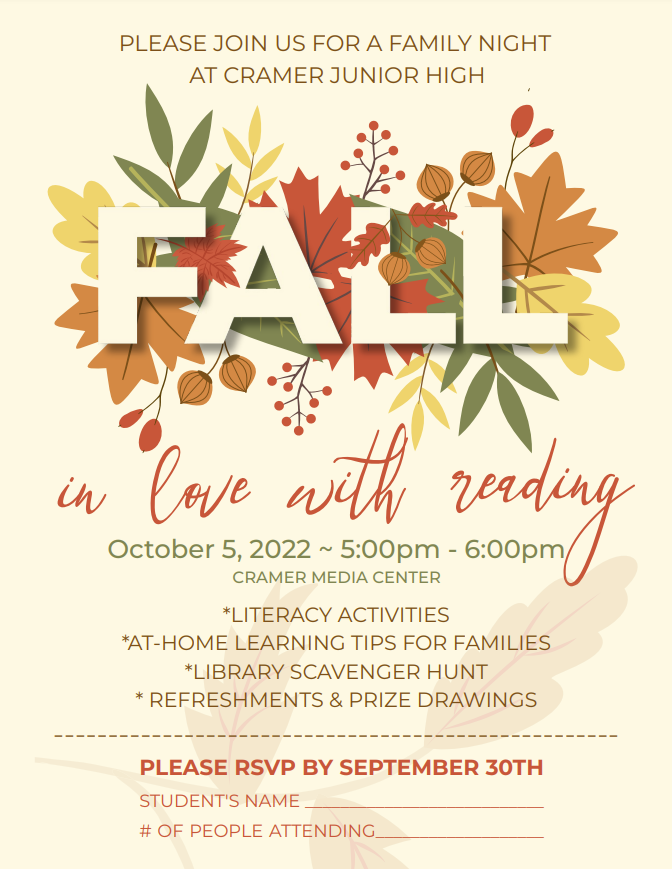 Cramer Picture Retake Day - Friday, October 14th. Picture packets will be sent home the 1st week of October.
SPIRIT WEEK - 9/26 - 9/30 Monday - PJ Day Tuesday - Country/Cowboy Day Wednesday - Class Color Day (8th-Blue, 7th-Black, 6th-Gray, 5th-White) Thursday - USA Day, show your American Spirit Friday - Duke Day, Go Dukes!!!!
Attention 6th- 8th grade students…Are you interested in trying a new club sport for FREE? We will be offering co-ed junior high tennis this fall, starting October 10th! Please stop into the main office to pick up an informational flyer. You must have a current sports physical on file to participate. Contact Coach Collins with any questions at the email provided at the bottom of the flyer.